Los Angeles, CA, April 1, 2021 – Gamechanger for blackbox is the only synth that weds the hipness of retro-gaming with the coffee house cool of synthesizers.
Vintage is better. Gamechanger lets you boot-up DOOM ala "1990-something" in all its pixelated glory. Choose your weapon and blast away at demons with clicky keys just like on your dad's PC. Hook-up your USB/MIDI controller to play 8-bit game samples, up-sampled to 24-bit with patented BitGrit™ aliasing algorithms to add extra fizz and click. Be more lofi with graphics AND audio than ANY of your friends – even without tape! Write tunes with 1000x more noise and NO plug-ins.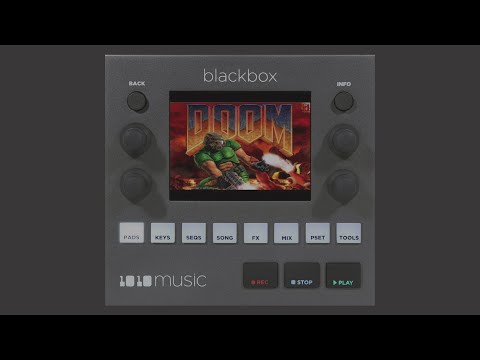 Tuck your blackbox with Gamechanger into any stage set-up and impress the crowd with even MORE blinking lights. Play DOOM while your sequencer plays the whole set for you – no-one will be any the wiser.
When asked about Gamechanger, 1010music founder Aaron Higgins said:
"People always ask us for "game changing" features. Well, this time we focused all our efforts on changing the game. We delivered a thousandfold. You're welcome."
Retro-gaming is the future and Gamechanger has all you need to get back to the future.
Gamechanger makes all your existing tech pointless and honestly, just a little bit sad.
FEATURES:
• DOOM graphics splatter your screen in 256 shades of 8-bit glory
• Play vintage 8-bit game sounds via MIDI controllers
• Direct livestream output to Facebook, Instagram, YouTube and Twitch via your phone's camera and your personal account
• Full gameplay supported, except for certain features found in the original game
• The power of a blistering fast 90's PC – now in your pocket
• Gamechanger does NOT require a subscription
• PDF documentation included on 3.5" floppy disk for no particular reason
• Free download for blackbox owners…unless you want to pay…which would be nice
Gamechanger is available now from 1010music.com. For review, press inquiries, movie rights, custom Gamechanger SOCs, Atari/Amiga support or streetwear please contact
[email protected]
.
About 1010music LLC
1010music LLC creates innovative music solutions to provide the creative spark for electronic musicians worldwide. Their bluebox mixer/multitracker was awarded "Best Product from an Indie Manufacturer" by Bo Beats and blackbox, their music workstation, was voted Sampler/Drum Machine of the Year by musicradar. 1010music will push the boundaries of music creation wherever and whenever possible.